The Stag 15 Valkyrie utilizes the all-new 224 Valkyrie cartridge, created by Federal Premium® Ammunition, allowing for maximal performance from the Stag 15 platform. Built around an 18" 416R Stainless Steel Fluted Heavy Barrel, the 224 Valkyrie cartridge provides less wind drift and drop than all other loads in its class and stays supersonic past 1,300 yards.
18" 1/7 Twist 416R Stainless Steel Fluted Heavy Barrel
Stag 15 16.5" M-LOK SL Handguard
NiB Coated Two-Stage Match Trigger
90-grain Gold Medal Sierra MatchKing
92.76" Wind Drift | 391.56" Drop @ 1000 yds
4.35 ft-lbs Felt Recoil | 2,700 ft/s Muzzle Velocity
Lifetime Transferable Warranty
Infinite Shot Barrel Guarantee
100% American Made
---
---
FLATTENS THE COMPETITION AT 1,000 YARDS
The AR15 has never offered practical 1,000-yard performance. That's all changed thanks to the heavier bullets and extremely high ballistic coefficients of the new 224 Valkyrie. Loaded with the 90-grain Gold Medal Sierra MatchKing, the cartridge offers as much as 127.88 inches less drop and 68.76 inches less wind drift at 1,000 yards when compared to existing MSR 15 cartridges.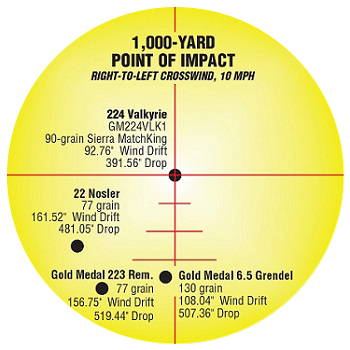 ---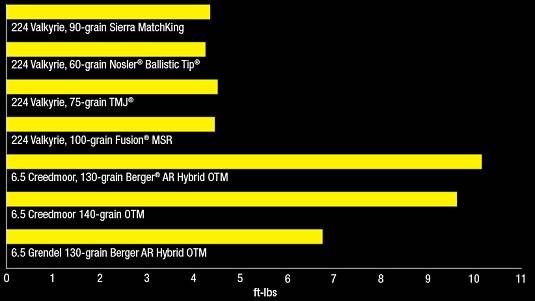 MORE PUNCH. LESS KICK.
New 224 Valkyrie provides comparable ballistics as larger counterparts like 6.5 Creedmoor but with as little as half the felt recoil.
---
FROM TARGETS TO TROPHIES
The 90-grain Gold Medal Sierra MatchKing 224 Valkyrie can tackle the most elite competition. However, loaded with other available bullets, the cartridge is also lethal on varmints and medium game. Gel shot at 100 yards with 60-grain Nosler Ballistic Tip (P224VLKBT1).